---
Silvestr 2014
Tento Silvestr se po delší době konal zas na Chotivi, dokonce nám připadlo i trochu sněhu.
Silvestr 2014
I letos, jako každý rok, byl 31.12. :-). Kdo by to byl řek :-).
Teď vážně. Oslava Nového Roku 2015 proběhla na Chotivi v komorním duchu. Ale vůbec to nevadilo. Počasí nám přálo, tak bylo možné být venku celý den. A protože jídlo mělo ten den hlavní roli, tak už od rána se v brutaru vařila vepřová kolena (taková malá přípravka na únorovou zabíjačku). A protože nejen vepřovým živ je člověk, tak ani hovězí nezůstalo ladem a večer se podával tatarák s topinkou.
Abyste si nemysleli, že jsme se jenom cpali. To ne! Protože napadlo dost sněhu, mohli jsme obnovit tradici - " vezu si svůj sud na sáňkách". A tak se stalo, že náš naražený sud se jel spolu s námi podívat na s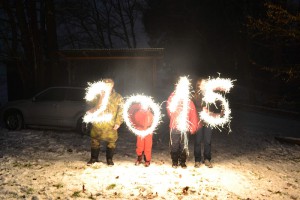 lavnostní týnišstský ohňostroj, který jsme sledovali z chotivské vyhlídky. A k tomu čerstvě natočené pivko.
Z naší fotodokumentace poznáte, že jsme ten Nový Rok 2015 přivítali přímo zářivě.
Vám všem přejeme zářivý rok 2015.
Těšíme se na Naše setkání u chatičky " Na Dolíčku".
Vaši CHOTIVÁCI